de
home
performance
projects
workshops
bio
photos video
contact
Vera Rosner

photo: Thomas Richter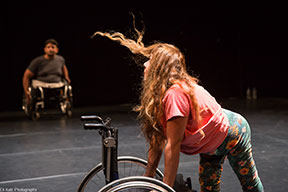 Fotos: Bella Kunz, J. Katz, Sema Schäfer

Vera Rosner (formerly Rebl) was born in Vienna, she is an artist who works in dance, choreography,
performance and interdisciplinary concepts, and lives in Vienna.

Since 2006 she has been leading an open workshop group every week, since 2011 she founded
an advanced training group and teaches a variety of workshop formats in Austria and
several countries in Europe (Germany, Portugal, Italy, Finland ...).

From 2005 to 2009 she danced with Danse Brute.
In 2008 she founded the compagnie A.D.A.M., with which she performed 6 tanzen, Auf freiem Fuß, Flora, dancing with paints, ...

As a performer she was last seen on the stage in Gala by Jerôme Bel,
Habitat and Everybody Electric by Doris Uhlich.

Vera is co-founder and at the board of MAD Coproductions and DanceAbility Vienna.